Securities and Exchange Commission (SEC)
The Securities and Exchange Commission (SEC) is a U.S. government agency that oversees securities transactions, activities of financial professionals and mutual fund trading to prevent fraud and intentional deception... (Continued)
Looking for something else?
The Securities and Exchange Commission (SEC) is a U.S. government agency that oversees securities transactions, activities of financial professionals and mutual fund trading to prevent fraud and intentional deception. The SEC consists of five commissioners who serve staggered five-year terms. No more than three of the commissioners may belong to the same political party.
Network Security Visibility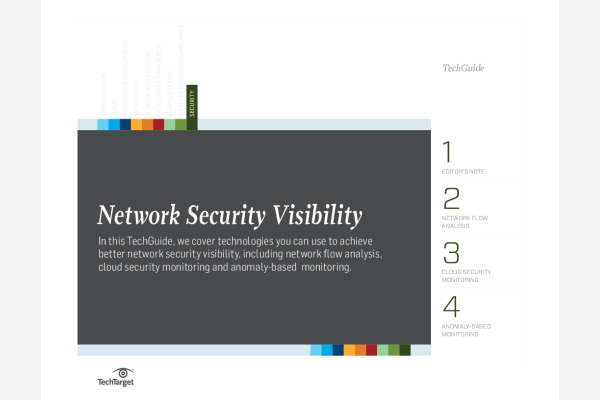 Ensuring comprehensive network security visibility is no easy task. Uncover expert tips on how to improve network security visibility with network flow analysis tools, cloud security monitoring solutions, and anomaly-based monitoring technology.
By submitting your personal information, you agree to receive emails regarding relevant products and special offers from TechTarget and its partners. You also agree that your personal information may be transferred and processed in the United States, and that you have read and agree to the Terms of Use and the Privacy Policy.

The SEC has four major divisions.
The Division of Corporation Finance ensures corporate disclosure of important information to the investing public.
The Division of Trading and Markets ensures fairness, order and efficiency in market activities.
The Division of Investment Management helps protect investors and encourages capital formation through oversight and regulation of the investment management industry.
The Division of Enforcement investigates securities law violations and initiates civil and criminal actions.
Offices of the SEC include:
General Counsel
Chief Accountant
Economic Analysis
Compliance
International Affairs
Investor Education
Investor Advocacy
Policy and Investor Outreach
Public Documents
Information Technology
Executive Director
Financial Management
Human Resources
Administrative Services
Risk Assessment
Legislative Affairs
Public Affairs
Secretary
Equal Employment Opportunity
Inspector General
Administrative Law Judges.
The SEC was created during the Great Depression with the passage of the Securities Exchange Act of 1934, which was designed to bolster confidence in capital markets by providing investors with reliable information and by requiring that individuals and corporations deal with each other honestly.
Continue Reading About Securities and Exchange Commission (SEC)