VOIPSA (Voice over IP Security Alliance) definition
What is VOIPSA?
VOIPSA (Voice over IP Security Alliance) is a cross-industry coalition of individuals and organizations from the security and VoIP communications sectors.
Download this guide to become a Web App Security superhero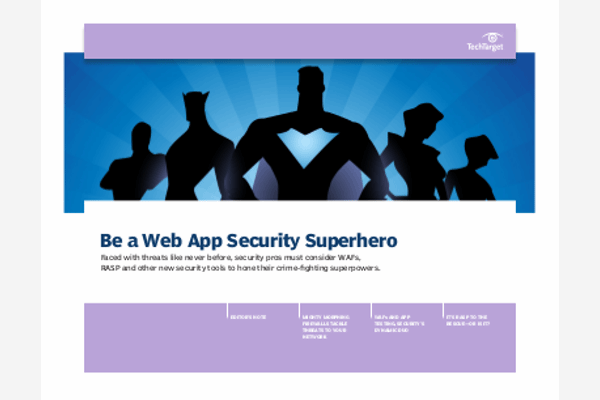 As web apps continue to face advanced attacks, protecting them requires more fine-tuning in order to match your app's distinct characteristics. Take advantage of this three part guide to access best practices for boosting your web defense and learn the latest in how to secure web apps on your enterprise network.
By submitting your email address, you agree to receive emails regarding relevant topic offers from TechTarget and its partners. You can withdraw your consent at any time. Contact TechTarget at 275 Grove Street, Newton, MA.
You also agree that your personal information may be transferred and processed in the United States, and that you have read and agree to the Terms of Use and the Privacy Policy.

VOIPSA's stated mission is "to drive adoption of VoIP by promoting the current state of VoIP security research, VoIP security education and awareness, and free VoIP testing methodologies and tools."
VOIPSA oversees three working groups:
The Threat Taxonomy group seeks to identify and define current and potential VoIP security threats and to educate industry members, the media and the general public about those threats.
The Security Requirements group seeks to define necessary elements of design, software and hardware for secure unified communications.
The Best Practices group seeks to define and recommend security practices to protect the industry from threats identified in the taxonomy.
VOIPSA was founded in 2005. There are two categories of membership: Full members pay an administrative fee, are visible on the Alliance website and may have input; Technical Advisory Board members are peer-nominated industry experts who must be approved by the Board of Directors. VOIPSA is an open, non-profit and vendor-neutral organization.
Learn More About IT:
> The VOIPSA website provides access to documents and other resources.
> The Voice of VOIPSA is a frequently updated security news blog.
> Gary Audin delivers a crash course in VoIP security fundamentals.
Dig Deeper on Financial Security Resources