News
Stay informed about the latest enterprise technology news and product updates.
ING hopes to cut phishing attacks with encryption software
The bank is offering free software that will give customers a secure pipeline when they connect to their accounts.
Looking for something else?
Alarmed by the growing number of malware threats such as phishing, pharming and man-in-the-middle attacks, ING Direct is offering free identity theft software designed to give customers a direct connection when they sign into their accounts.

Download this free guide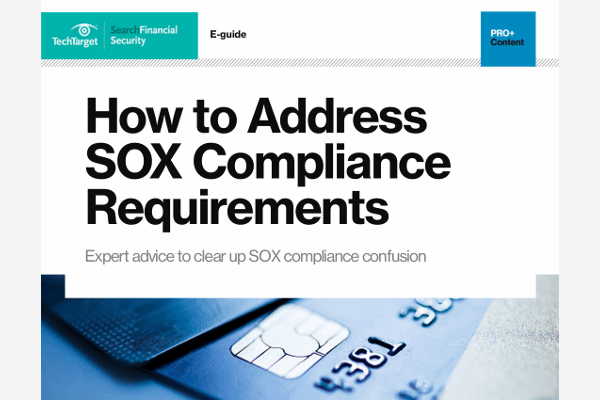 Download Now: SOX Compliance Best Practices
This expert guide offers clear directions for addressing SOX requirements. Get SOX right when you are building your security and compliance programs.
By submitting your personal information, you agree that TechTarget and its partners may contact you regarding relevant content, products and special offers.
You also agree that your personal information may be transferred and processed in the United States, and that you have read and agree to the Terms of Use and the Privacy Policy.
We're hoping this will help us avoid untold amounts of damage not only to us from fraud losses but also to the consumer and that's what's important.
Robert Weaver,
head of IT securityING Direct
Trusteer Rapport software will be used to create a secure pipeline between the customer and the bank. It protects all information flowing between the computer and the ING Direct website. The free download is currently available to a limited number of customers, but the bank plans to make it widely available this summer.
It took virtually no investment from ING to offer the software to customers, said Robert Weaver, head of IT security at ING Direct in the U.S. No additional infrastructure was needed to support the software, he said. The only investment needed was to create the marketing materials, Weaver said.
"We're working with Trusteer because this is new technology and we've been providing a lot of input," Weaver said. "In the end any investment we make definitely has a return on that investment because we don't want our customers to go through identity theft."
ING has the ability to detect a customer using the software and could feed the information into the company's risk-based transaction monitoring system, Weaver said.
The software has been in production for about eight months, according to Trusteer CEO, Mickey Boodaei. It was first deployed by New York-based brokerage, Muriel Siebert & Co., Inc. The software contains no spyware, he said. Neither ING Direct nor Trusteer collect any customer information using the software.
It also won't slow the computer, Boodaei said. Like traditional antivirus software it runs in the background of the computer, but its approach is different in that it doesn't try to detect and remove malware from the desktop. When a customer logs into ING Direct to view their account information, the software controls all the API calls of the operating system, making sure that when the user interacts with the website, malware won't be able to interact with the transaction. It also encrypts all information typed by the customer from the keyboard all the way to the network adapter and authenticates with the website to make sure it is not a phony site.
"The purpose is to hide this information from any possible malware on the consumer's desktop," Boodaei said.
ING Direct has the ability to push out policy updates to users. A software update with new features and fixes will be released every couple of months, Boodaei said. Eventually Boodaei hopes to get more banks to register for the Trusteer service and broaden the protection to more customers. Software users can also protect data exchanging with three other websites of their choice. Customers will have the option to upgrade the software, giving them the ability to protect more websites.
"We're hoping this will help us avoid untold amounts of damage not only to us from fraud losses but also to the consumer and that's what's important," said ING Direct's Weaver. "We want to make them feel safe banking online."