Download this free guide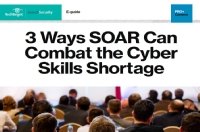 Download Now: 3 Ways SOAR Can Combat the Cybersecurity Skills Shortage
What are some of the strategies that your organization has implemented to help combat the cybersecurity skills gap? Mike Chapple, senior director of IT at University of Notre Dame explains how log processing, threat intelligence and account lifecycle management can help alleviate the shortage of qualified pros and have teams work smarter, not harder.
Trending Topics
Money service businesses are a growing part of the financial services industry but compliance with anti-money regulations is critical.

What do Visa's PAN truncation guidelines mean for merchants and their acquiring banks? Security experts Ed Moyle and Diana Kelley provide analysis.
Topics Covered
Business process security

(4)

+

Information security technology management

(4)

+

Regulations and compliance

(14)

+

Security management strategies

(5)

+
Margaret Rouse asks:

Dodd-Frank requires financial institutions to tag, aggregate and share risk data. How might the Act's repeal affect IT departments?

Margaret Rouse asks:

What's your takeaway from the series of FDIC data breaches?

Margaret Rouse asks:

Does your organization use any GRC tools?
Find Solutions For Your Project
Evaluate

Merchants need to balance buyers' online experiences and their controls for analyzing suspicious purchasing behavior to prevent card-not-present scams.

View All Evaluate

Problem Solve

Money service businesses are a growing part of the financial services industry but compliance with anti-money regulations is critical.

View All Problem Solve

Manage

June 23 – 26, 2014, National Harbor, MD

View All Manage
Financial Services Information Security Basics
Get Started

Personally identifiable information (PII) is any data that could potentially identify a specific individual.

Get Started

The Dodd-Frank Act (fully known as the Dodd-Frank Wall Street Reform and Consumer Protection Act) is a United States federal law that places regulation of the financial industry in the hands of the government.

Get Started

The Federal Deposit Insurance Corporation (FDIC) is an independent agency of the United States (U.S.) federal government that preserves public confidence in the banking system by insuring deposits... (Continued)
View All Get Started
Vendor Resources